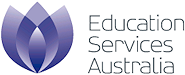 Education Services Australia Ltd
Education Services Australia (ESA) is a national, not-for-profit company owned by all Australian education ministers. The company was established to support delivery of national priorities and initiatives in the schools, training and Higher Education sectors, in particular to advance key nationally-agreed education initiatives, programs and projects by providing services such as:
researching, testing and developing effective and innovative technologies and
&nbsp &nbsp&nbsp communication systems for use in education
devising, developing and delivering curriculum and assessment, professional
&nbsp &nbsp&nbsp development, career and information support services
facilitating the pooling, sharing and distribution of knowledge, resources and
&nbsp &nbsp&nbsp services to support and promote e-learning, and
supporting national infrastructure to ensure access to quality assured systems
&nbsp &nbsp&nbsp and content and interoperability between individuals, entities and systems
ESA works closely with the Australian Curriculum and Assessment Authority (ACARA), the Australian Institute of School Leadership (AITSL) and the Australian Children's Education and Care Quality Authority (ACECQA).

.au Domain Administration Ltd
The .au Domain Administration Ltd (auDA) is the policy authority and industry self-regulatory body for the .au domain space.
The key functions of auDA include but are not limited to:
Developing and implementing domain name policy
Licensing second level domain (2LD) registry operators
Accrediting and licensing registrars
Implementing consumer safeguards
Facilitating .au Dispute Resolution Policy
Representing .au at ICANN and other international fora.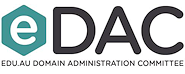 .edu.au Domain Administration Committee
The .edu.au Domain Administration Committee (eDAC) monitors developments, contributes to major policy for, and provides advice to key agencies on issues related to monitoring and regulating the edu.au domain space.
eDAC comprises of representation from:
The State and Territory Government schools sector
National Catholic Education Commission
Independent Schools Council of Australia
The Vocational Education and Training sector
The Higher Education sector